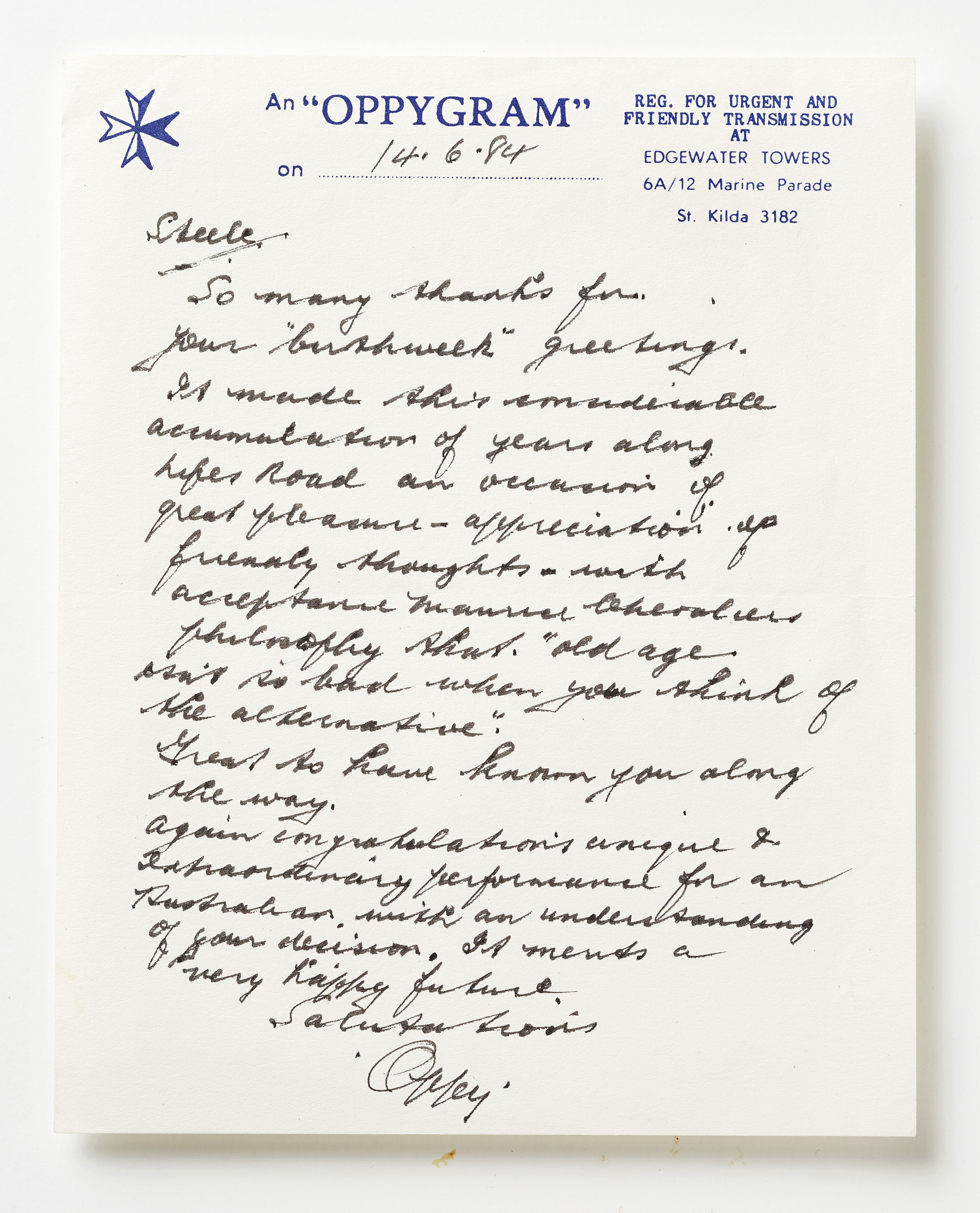 From 1971 until his retirement in 1984 Bishop won numerous Australian professional track titles, including the 5000 metre pursuit eight times. In Western Australia, he won the Westral Wheelrace six times between 1975 and 1984 and won the first two Griffin 1000 road races. (Wikipedia)
I was in Brisbane for the 1983 Australian Professional Track Championships, where I won two titles and had announced my retirement. I was sitting in the grandstand at the time of this award presentation which I had never heard of before. I received the Oppy Oscar award for the best performance in Australia by an amateur or professional cyclist. My achievement was being the 1

st

Australian cyclist to break the 6 minute barrier for the 5000 metre Individual Pursuit . The award was presented to me in person by Sir Hubert Opperman – a return airfare to the next world championships in 1983 in Switzerland.
I had a two week break off the bike, being the first time in two and half years, to regroup and make the decision to put the team back together and go one more time.
In the 3 months lead up to the (1983) Championships Bishop was living and training in Switzerland. He won all but one race during this time, receiving flowers each time, as was the custom. This lead the press of the day dubbing him 'Mr Flowers'.
On winning the world Championship of the 5000m Individual Pursuit Bishop recalls
".. in my mind at the start was the need to focus on the main thing, I knew I was faster than Dill-Bundy, but anything could happen, so I focussed on the strategy of the race agreed with my coach, which was my lap times"
This meant constant focus on 4 things : breathing, rhythm, line and the coach.
Bishop's last professional race was the final of the of the 1984 Westral Wheel Race . He won in record time from scratch and in doing so set a record of six Westral wins, which still stands today.
The Bike
A revolutionary design by Cycles Estermann of Switzerland, It was first ridden in the 1980 Olympics by the Swiss Gold Medalist Robert Dill-Bundy. Just 3 years later Steele Bishop would beat Dill-Bundy in the World Championships with the same bike design.
The Nicknames
In the European press Steele was dubbed "Mr Flowers" an allusion to the number of winner's bouquets he was given. In Australia he was the "Flying Fireman"; he had worked as a fireman before joining the professional circuit.